Donald M. Temple, Esq., Senior Legal Advisor  for Closs Global Solutions, has practiced law since December, 1978, when he worked in the U.S. Department of Housing and Urban Development, Office of General Counsel, Administrative Law Division, assigned to bid protests and debarments. Mr. Temple, commonly referred to as "DT," started his private practice of law in 1990.
Located in downtown Washington, D.C., Mr. Temple's work is concentrated primarily in the District of Columbia and Maryland federal courts, D.C. state courts, and various administrative entities, including civil trial and appellate litigation, administrative hearings, arbitrations, and mediations.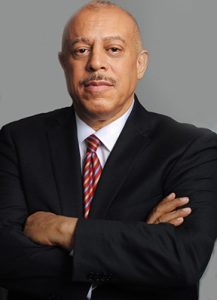 Mr. Temple received an LLM from Georgetown Law Center in 1981, with a concentration in international and constitutional law. He received his Juris Doctorate in 1978 from the University of Santa Clara, where he was also elected to serve as the school's first African-American Student Bar Association President. He attended the Rene Cassin Human Rights Institute at the University in Strasburg, France in 1977 and received his BA from Howard University in 1975.
Mr. Temple's practice includes commercial and civil trial and appellate litigation in the following areas: civil fraud; corporate governance and contractual disputes; real estate transactions, foreclosures and construction; workplace labor disputes; personal injury; reputational torts; conversion and theft;  employment discrimination including Title VII and 42 USC Section 1981; human rights violations; police misconduct including Section 42 USC 1983;  constitutional litigation involving equal protection and due process claims; and estate disputes.
Mr. Temple has successfully litigated against corporations and governments including, but not limited to, the United States, District of Columbia, City of Philadelphia, Prince George's County, Montgomery County, Washington Suburban Sanitation Commission, Eddie Bauer, American Eagle, ICMA-RC Pension Fund, Grand Hyatt Hotel, CVS, Hunton and Williams Law Firm, Invest Corporation, and the District of Columbia Police Department. He is an aggressive advocate of what he calls civil and "silver rights."
In November of 2016, Mr. Temple won a $1.7 million dollar whistle blower jury verdict in the U.S. District Court for the District of Columbia against the D.C. Office of the Chief Financial Officer. Also in 2016, he successfully litigated and resolved a 42 USC Section 1981 lawsuit against the University of the District of Columbia, which resulted in the re-instatement of an African-American woman law professor and her receipt of tenure.  Mr. Temple settled a major claim filed in FINRA against Invest, a New York investment firm, related to its handling of investment accounts. In addition, Mr. Temple successfully represented Jericho Baptist Church related to interplead funds in the U.S. District Court for Maryland (Greenbelt) where he attained a favorable summary judgment ruling. Mr. Temple also recently attained a favorable judgment in the U.S. District Court for the District of Columbia in a trademark infringement and conversion case on behalf of the African Hebrew Israelite community.
In 1997, Mr. Temple coined the term "consumer racism" and obtained an unprecedented $1 million dollar verdict against Eddie Bauer in the U.S. District Court for Maryland. His litigation of police misconduct cases in Prince George's County helped to end aggressive police dog biting incidents. Additionally, Mr. Temple has successfully attained several appellate court reversals in the local, state, and federal courts. Mr. Temple is also the former Chairman of the D.C. Civilian Complaint Review Board, a 1989 candidate for the D.C. Delegate seat to the United Congress and former Chairman of the Congress Heights Community and Economic Development Center.
Mr. Temple is the Founder of the Charles Hamilton Houston Law School Preparatory Institute ("CHH"), a self-sufficient seven week program which prepares students to enter into law schools. CHH recently graduated its 37th consecutive class and its many graduates are now lawyers, partners in law firms, and judges across the nation. He is also the Founder of the D.C. Chapter Concerned Black Men and the Congressional Black Associates.
Mr. Temple has received numerous awards and commendations for his professional and educational work, and community service, including the National Bar Association's Gertrude E. Rush Award, the Washington Bar Association's Ollie Mae Cooper Award, and the National Black Law Student Association's Cora T. Walker Award. Mr. Temple was recently inducted into both the District of Columbia and the Washington Bar Association's Halls of Fame.