David Skinner, Director of  Marketing and Design, brings over 30 years of effective communication experience to Closs Global Solutions.  He began his career as a reporter and editor for The Sevier County Times, a weekly newspaper in the Smoky Mountains of East Tennessee.  In the late '70s, he relocated to New York City, where he art directed the international music trade magazine, Record World.  During his tenure at RW, he also did custom art projects for such notables as Elton John, Stephen Stills, Graham Nash, Led Zeppelin, Kenny Rogers and Billy Joel.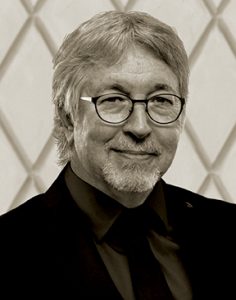 After Record World, Skinner went to work for Doubleday, art directing their prestigious Literary Guild Magazine. At Doubleday, he created marketing treatments for books by such notable writers as James Michener, Peter Maas, Stephen King, and celebrities such as Candice Bergen, Dinah Shore and Dr. Ruth Westheimer.
In the mid '80s, Skinner co-founded Indelible Inc., an Atlanta print, design and advertising agency. One of Indelible's initial clients was Glock, and he created their first major advertising and marketing campaigns, which was geared specifically to the law enforcement community. In the early 90's, Skinner also became involved in various music projects, including Johnny Cash's gospel video and CD, "Return to the Promised Land," for which he designed the logo and co-wrote the title track with Cash and Cash's manager, Hugh Waddell.
In 2005, Skinner launched Bridgital (a portmanteau for digital bridge), an advertising and design company. His clients have included Home Depot, Target, HanesBrands and Citibank, as well as colleges such as Bluefield College, Truett-McConnell, GBCN at Mercer University and his alma mater, Carson-Newman University. His projects have ranged from the concept and illustration of a 20-foot, 3-dimensional bronze bas-relief for the University of West Georgia's new football stadium to a watercolor painting commissioned for Justice Clarence Thomas.